QuickShare is a program that usually installs without your knowledge via free software download. It collects your habits navigation and communicates to a server. It promotes its products (advertising) and bouste ranking Sponsored Sites. It is often added with the pack VLC Media Player.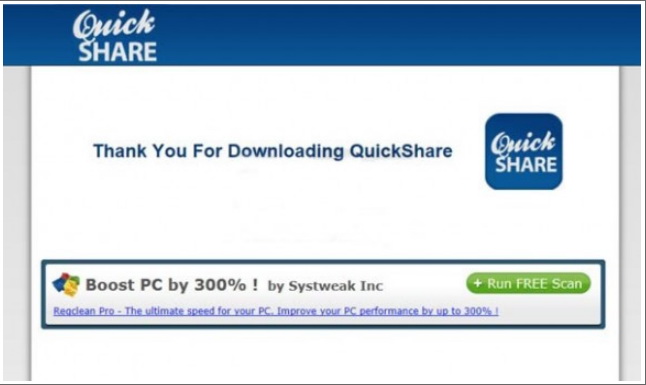 Characteristics :
– It belongs to a family of PUP Optional (Potentially Unwanted Program).
– Seller : PUP.Optional.
main actions :
– It installs as a process launched at system startup (RP),
– It installs an extension program for the Google Chrome browser (G2),
– It installs an extension program for the Mozilla Firefox browser (M2),
– It s & rsquo; installs as a BHO (Browser Helper Object) Internet Browser (O2),
– It s & rsquo; installs as Internet Browser Toolbar (o3),
– He settled in the Registry for to be launched at every system start (O4),
– It s & rsquo; installs as program (O42),
– It creates multiple registry keys "Software",
– It creates a registry key ShareTools MSconfig StartupReg (O53),
– He settled in specific folders on the user (O84),
– It creates registry keys Install (o90),
Overview ZHPDiag :
—\\ running processes

[MD5.3E51D59FF061C51C2F479F3745F2DB13] – (.Smartbar – Smartbar.) — C:\UsersCoolmanAppDataLocalSmartbarApplicationQuickShare.exe [13824] [PID.2868]
—\\ Google Chrome, Start-up,Research,Extensions (G0,G1,G2)
G2 – GCE: Preference [User DataDefault] [amfclgbdpgndipgoegfpkkgobahigbcl] QuickShare Widget v.1.4, (activated )
—\\ Mozilla Firefox, Plugins,Start-up,Research,Extensions (P2, M0, M1, M2, M3)
M2 – off: prefs.js [Coolman – 4h6kw05g.default{9f8d613e-29d9-442b-96e7-412bd37bd9b0}] [] QuickShare Widget v (.QuickShare.)
M2 – off: prefs.js [Coolman – 4h6kw05g.default{ed5da972-751a-4a2a-a147-6309f6048edc}] [] QuickShare Widget v (.QuickShare.)
M2 – off: prefs.js [Coolman – 4h6kw05g.default{0e24158c-7e6f-4611-bf20-d158422d65de}] [] QuickShare Widget v (..)
—\\ Browser Helper Objects de navigateur (O2)
O2 – BHO: QuickShare WidgetEngine [64Bits] – {31ad400d-1b06-4e33-a59a-90c2c140cba0} . (…) — mscoree.dll
O2 – BHO: QuickShare WidgetEngine – {31ad400d-1b06-4e33-a59a-90c2c140cba0} . (…) — mscoree.dll
—\\ Internet Explorer Toolbars (o3)
o3 – Toolbar: QuickShare Widget [64Bits] – [HKLM]{ae07101b-46d4-4a98-af68-0333ea26e113} . (.Microsoft Corporation – Microsoft .NET Runtime Execution Engine.) — C:\WindowsSystem32mscoree.dll
o3 – Toolbar: QuickShare Widget – [HKLM]{ae07101b-46d4-4a98-af68-0333ea26e113} . (.Microsoft Corporation – Microsoft .NET Runtime Execution Engine.) — C:\WindowsSystem32mscoree.dll
—\\ Applications started by register & by folder (O4)
O4 – HKCU..Run: [Browser Infrastructure Helper] . (.Smartbar – Smartbar.) — C:\UsersCoolmanAppDataLocalSmartbarApplicationQuickShare.exe
—\\ installed software (O42)
O42 – Software: QuickShare – (.Linkury Inc..) [HKLM][64Bits] — {A142E531-C598-4C74-895B-7EEACF0D571E}
O42 – Software: QuickShare – (.Linkury Inc..) [HKLM][64Bits] — {62BC7EFB-47F5-4619-9B74-7DDA72D5AF7E}
O42 – Software: QuickShare – (.Linkury Inc..) [HKLM] — {C7310710-42E5-4B6B-A838-795D7BD13542}
O42 – Software: QuickShare – (.Linkury Inc..) [HKLM][64Bits] — {D80C7D6E-EFFD-47E6-8CE1-BB3D5577B4FD}
—\\ HKCU & HKLM Software Keys
[HKCUSoftwareAppDataLowSoftwareSmartBar] [HKCUSoftwareSmartbar]
—\\ ShareTools MSconfig StartupReg (SMSR) (O53)
O53 – SMSR:HKLM…\startupregBrowser Infrastructure Helper [Key] . (…) — D:\TuevProfilecolar-luAppDataLocalSmartbarApplicationQuickShare.exe
—\\ Search particular at the root of certain files (SPRF) (O84)
[MD5.F00AAEC2069BA6B88074D8FBFC4174B8] [SPRF][09/05/2013] (.No owner – Linkury.Installer.MsiWrapper.) — C:\UsersCoolmanAppDataLocalTempSmartbarExeInstaller.exe [8192280] [MD5.35F783E83866CDFD580A06A59C375A61] [SPRF][20/04/2013] (.QuickShare – QuickShare.) — C:\UsersCoolmanAppDataLocalTemptoolbar41593189.exe [7704368] [MD5.D88D453C3DDBE7CD0056B36FFA115573] [SPRF][09/03/2013] (.QuickShare – QuickShare.) — C:\UsersCoolmanAppDataLocalTempQuickShare1.exe [7900944]
—\\ Additional Scan (O88 )
[HKLMSoftwareGoogleChromeExtensionsamfclgbdpgndipgoegfpkkgobahigbcl] [HKLMSoftwareMicrosoftInternet ExplorerToolbar]:{ae07101b-46d4-4a98-af68-0333ea26e113}[HKLMSoftwareMicrosoftWindowsCurrentVersionExplorerBrowser Helper Objects{31ad400d-1b06-4e33-a59a-90c2c140cba0}] [HKLMSOFTWAREMicrosoftWindowsCurrentVersionRun]:Browser Infrastructure Helper[HKLMSoftwareMicrosoftWindowsCurrentVersionInstallerUserDataS-1-5-18Components649A52D257CA5DB4EAAE8BA9EB23E467] [HKLMSoftwareMicrosoftWindowsCurrentVersionUninstall{A142E531-C598-4C74-895B-7EEACF0D571E}] [HKLMSoftwareMicrosoftWindowsCurrentVersionUninstall{62BC7EFB-47F5-4619-9B74-7DDA72D5AF7E}] [HKLMSoftwareMicrosoftWindowsCurrentVersionUninstall{C7310710-42E5-4B6B-A838-795D7BD13542}] [HKLMSoftwareMicrosoftWindowsCurrentVersionUninstall{D80C7D6E-EFFD-47E6-8CE1-BB3D5577B4FD}] [HKCUSoftwareAppDataLowSoftwareSmartBar] [HKLMSoftwareWow6432NodeMicrosoftTracingQuickShare_RASAPI32] [HKLMSoftwareWow6432NodeMicrosoftTracingQuickShare_RASMANCS] [HKCUSoftwareSmartbar] C:\UsersCoolmanAppDataLocalSmartbar
C:\UsersCoolmanAppDataLocalGoogleChromeUser DataDefaultExtensionsamfclgbdpgndipgoegfpkkgobahigbcl
Liens :
malwaretips.com
forum.malekal.com
www.supprimervirusspyware.com
Alias :
PUP.Optional.QuickShare.A [Malwarebytes]
Remove (Remove) :
– Delete extension "QuickShare" of all installed browsers,
– Delete the plugin "QuickShare" of all installed browsers,
– Remove Software "QuickShare" via the Windows Control Panel,
– Edit the search and start pages of all installed browsers,
– Empty the browser cache
– Clean with ZHPCleaner